Having Litochoro as our starting point, we head off to a cycling excursion to Prionia, to Mt. Olympus. We are cycling for 18 kilometers in a tarred uphill road as we pass by the 1rst refuge, at Stavros (994 meters). In the following we arrive in the area of Prionia (1.100 meters).
There is also an alternative route. Those who wish a more moderate cycling ascend have the option to use a car from the starting point in Litochoro until Stavros and continue their route by bicycle, so as to cycle for 7 kilometers of moderate difficulty until the area of Prionia.
In Prionia there is a parking space as well as a small restaurant. We are having a short break altogether for refilling and recovery. For the descend there are two options: 1rst: we leave our bicycles and we get ready to discover on foot the magical Enipeas Gorge, the most famous Gorge of Mt. Olympus. 2nd: we continue by bicycles for the 18 kilometers descend from Prionia to Litochoro, enjoying at the same time the unique natural beauty of Mt. Olympus and the coastline of Pieria, which fills up the horizon.
By choosing to cross the unique Enipeas Gorge we follow the well- preserved and signed international hiking pathway E4. En- route we will have the opportunity to enjoy the beautiful densely vegetated landscape, full of pine trees and beech trees, the varied geological features, the sheer mountain slopes, picturesque wooden bridges, running waters, the small lakes with crystal clear waters and small waterfalls.
Points of interest is a cave – chapel, where St. Dionysios of Mount Olympus lived and the monastery of St. Dionysios, which had been renovated in the 19th century and where are being kept relics from the old monastery, which was built in the 16th century and it was used as a warrior point at different historical periods).
The international hiking pathway E4, after a 9 kilometer route (of moderate difficulty) and 4-6 hours of duration, ends up at the point "Mylos", one of the entries to the national park of Mt. Olympus, at 400m.
The tour comes to its end at the starting point.
Bike route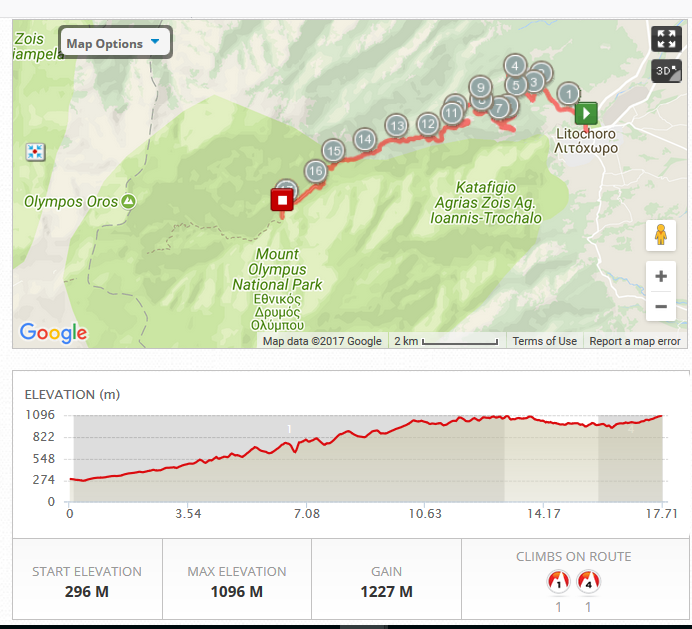 Hiking route