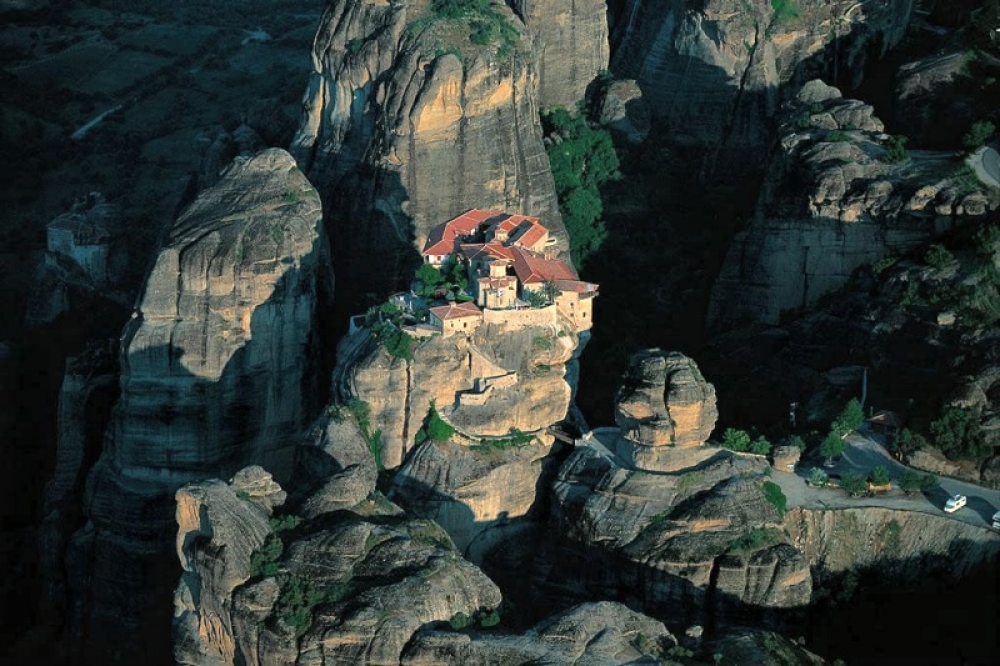 Our excursion begins after a good breakfast in Litochoro hotel and we move, by bus and with all bicycles, to Kalabaka that constitutes the city-gate of the huge stone complex of Meteora. The first visit is the hovering Monastery of «Agios Stefanos ». From there the cycling tour begins in a downhill route with a direction to the monastery the «Big Meteoro» and then to the monastery «Varlaam».
The masterpiece of the nature spreads before our eyes. The holy place constitutes a breath-taking spectacle!
We continue our cycling descent and arrive to Kastraki. It nestles between the rocks and it is the most beautiful village in the area and the base of operations for the climbers. Next we go to a special location in order to know the sport of climbing from a qualified instructor on the holy rocks, something very popular in the area and it attracts the specialist athletes and amateurs from all over the world, to the marked routes. There we will try the climbing route for the beginners and we will get to know the custom of AgiosGeorgiosMantilas. At the same time with this activity some cycling exercises and crafts will be take place (for the children under 18 years of age who want to participate).
Then we go with our bicycles to the Natural History Museum and the Mushroom Museum.
The excursion ends at the Central Square of Kalampaka. Then a stop for coffee or a sweet follows and a free tour to the traditional local shops of the area. After a dinner in a traditional tavern, the excursion is concluded with commemorative photos and greetings.