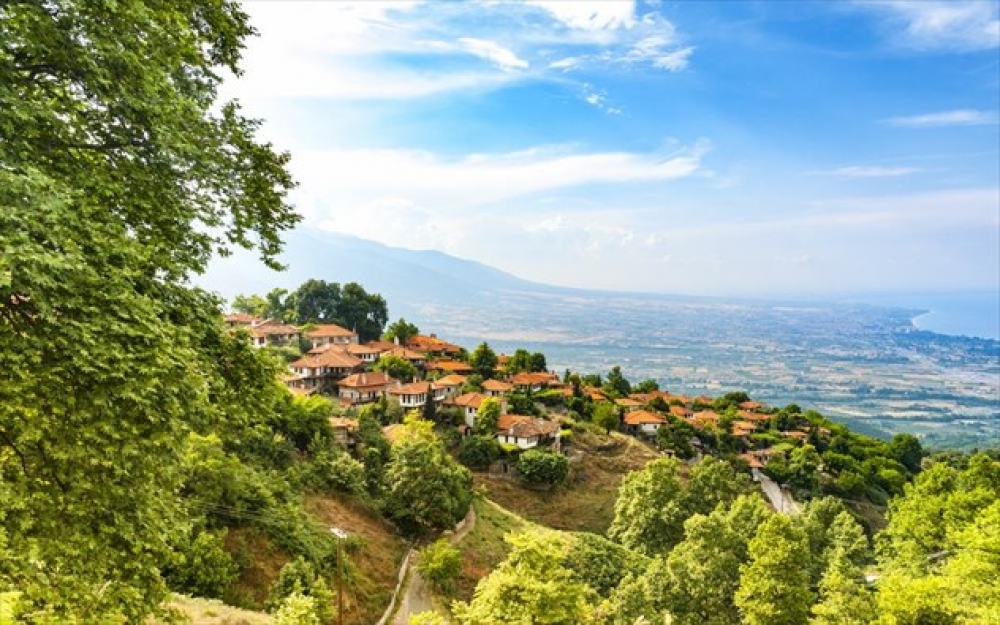 Early in the morning we set out for the 159 km cycling tour with road bikes. Our target is to complete the cycling tour of mythical mount Olympus. We will have the opportunity to meet the coastline of its eastern areas, the mountainous villages, the Western Olympus in Thessaly and the Northern Olympus in Pieria.
Starting from Leptokarya, we follow the route to Platamonas and from there we are heading the uphill to Kallipefki.
In the midway we go through the picturesque mountainous village of Palaios Panteleimonas, by making a short stop, so as to admire the beautiful view towards the base of Eastern Olympus and the sea that lays in front of us!
We keep on cycling in the uphill road, as we leave behind us the mountainous Ano Skotina. The next stop for catch up and taking some pictures is in Patomeni, a place that is located 2 kilometers from Kallipefki, in mount Olympus, Thessaly.
We keep going as we move towards the provincial road of Larissa – Kallipefki and from there we move on, passing by all the villages of Western Olympus in Thessaly (Karia, Sikaminea, Kriovrisi, Olympiada, Kallithea, Lophos, Dolichi, Pythio). We keep moving by passing by the villages of mount Olympos in Pieria (Aghios Dimitrios, Photeina, Kato Milia, Moschochori, Neokaisareia, Andromachi, Nea Ephesos, Kontariotissa, Karitsa, Dion, Port of Litochoro, Plaka, Leptokarya).
The 159 km cycling tour around the mount Olympus is completed in the starting point, where there will be a stop for relaxation and refilling or swimming in the beache.
SCHEDULE
8.30 The cyclists' group starts road tour to Olympus.
14.00 Dreak & or swimming.