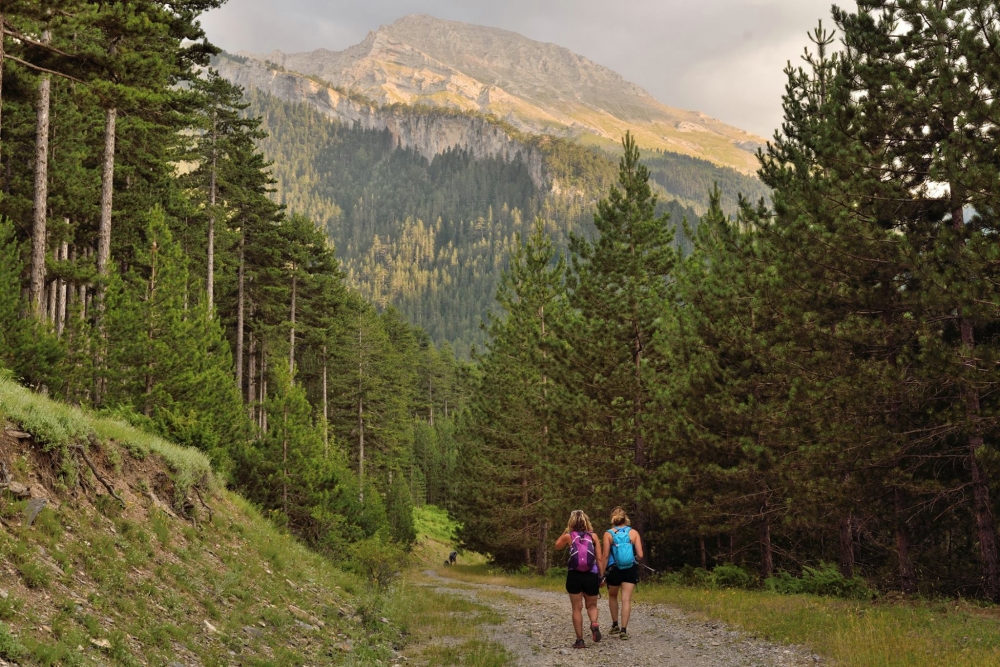 Our climbing excursion begins from the position Prionia at an altitude of 1000 m. By following the excellent marking of the E4 path, rhythmically climbing in rich and dense vegetation, we arrive to the most hospitable and popular refuge of Greece, the Spilios Agapitos refuge at an altitude of 2100m.As our pulses increase from the intense effort, it is a good opportunity for small intermediate stops to rest, gather strength and take photos in an incredible view!
In the heart of the area Mavrologgos, the Agapitos refuge constitutes and exceptional natural "terrace" surrounded by impressive centenarian trees resisting to bad weather with all their might. There we will enjoy a snack and coffee with a view of the massif and the beaches of Litochoro.
We continue climbing and by following the uphill edge we arrive at 'Mantres' (2.247m.) and then at the summit «Skourta» (2485 m.).From there the alpine landscape begins and the view to all directions is breathtaking! From there a narrow ridge begins, called «Laimos» ending upto the «Mousses Plateau». Arriving at the beginning of the plateau, the path is divided in two. The left part ends up to the refuge «Christos Kakkalos» in 30΄ minutes and the right one at the refuge«Giossos Apostolidis» in 40΄ minutes. From far away we gaze at the summits Toumpa (2801 m.) and Profitis Hlias (2803 m.).
We pass the night at the refuges «Giossos Apostolidis» ή «Christos Kakkalos».