Cycling Hellas & Dalavikas Bikes are created by real bike riders in mind!
'The long experience, the rich and multiple knowledge, but mainly the love and our passion for cycling, in combination with our respect for the customer and the friend of the bicycle, constitute the biggest guarantee for the quality of our products and services we offer ..'
Cycling Hellas offers
-Top-quality bike rental services: 40 and more, top, modern and fully equipped bicycles, from renowned companies, of all types (Road, Trekking, Fitness, Mountain bikes, city, e-bikes & kid's bikes). All bikes are cleaned and perfectly maintained, technically checked and adjusted to the rider's needs. There are a lot of suitable sizes which fit best for you!
-Cycling equipment & bike accessories rental services (rear rack, car rack, baby seat, rear bags, odometer, etc..). All extras and cycle gear are in excellent condition.
-Extra cycling gear and clothing in the finest cycling brands.
-Technical bike support by specialized & trained personnel.
-Transportation. 2 cars, a big trailer to carry 20 bikes & other bike racks.
Our cycling shop Dalavikas Bikes
Is active in cycling since 2000 on Iroon Polytechneiou str. in Larissa, following the evolution of cycling products and cycling technology. It possesses a dynamic presence in cycling and brand recognition, servicing not only the local market but also the needs of consumers and friends of cycling from all over Greece.
All these years, our specialty bike shop, continuously and consistently serves, supports and promotes the bicycle and cycling. Since 2011 it constitutes the grand sponsor and helper of the Podilatikos Cycling Club PINEIOS, while the owners Dalavikas Kostas and Tsesmetzidou-Dalavika Despoina have an intense sports and racing presence in cycling, in the organization of cycling races and other relative events & tours, supporting the triptych sports, ecology, alternative lifestyle...
The shop is located in 98 Iroon Polytechneiou str., in a modern and spacious exhibition are of 400 s.m., where you will find anything regarding cycling and the cyclist, a full exhibition of all bicycles and products of companies established in cycling, like: BIANCHI, CANNONDALE, FOCUS, WILIER, CUBE, CIPOLLINI, CERVELO, BALLISTIC, CLERMONT, CAMPAGNOLO, SHIMANO, CONTINENTAL, MAVIC, SCHWALBE, SPM, SAN MARCO, SANTINI, SPORTFUL, BICYCLE LINE, ENDURA, FSA, ROTOR, KASK, FIZIK, GAERNE, SIDI and others, satisfying even the most demanding cycling needs. A huge variety of high-profile accessories, spare parts, clothing is at your disposal, capable to satisfy the demands of the modern cyclist.
In a special, fully organized and equipped space, specialized service, from expertly trained personnel, ready to solve any cycling question. The shop possesses a bike fitting system, in order to exactly determine the bicycle size corresponding to you based on your physical data. Now with our new service 'Βike Delivery Service' you can receive the bicycle at your place, for repairs - upgrades - modifications - restorations and delivery at your home.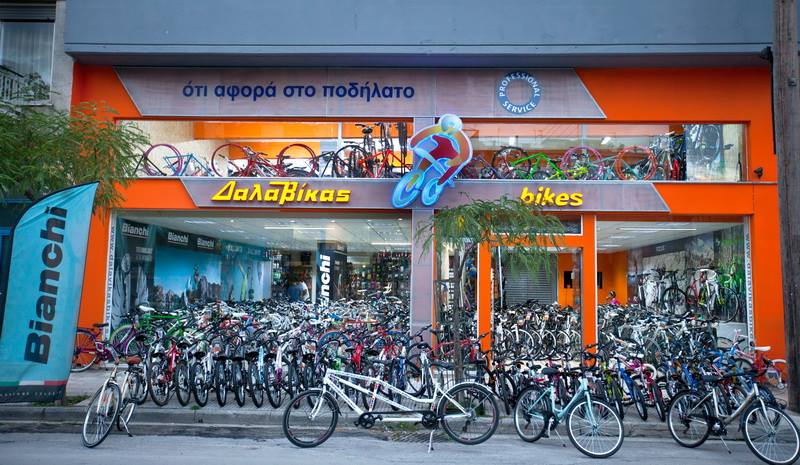 Browse our bikes and fill out our bike rental form